So I'm sitting on the plane back home from Belgium testing Days 2014 in Bruges, a conference I had the pleasure to attend as a speaker.
First off all I must simply start by saying that never before have I attended a conference with such high standards in regards to, and as a combination of:
Speakers list
Workshops, there were a lot of them
Evening events and fantastic food
Being so well taken care of by the organisers
Speaking of the organisers I must mention the fantastic work that Nadine Raes and Mieke Gevers (QAPerf) has done organising this event.
They have made all of us speakers feel extraordinarily well taken care of, from well before the conference and during it as well.
And I must say Belgium Testing Days is a real hidden pearl, if you're wondering about a potential conference to attend next year I must encourage you to consider attending. I may sound a bit ecstatic at the moment, but thats just because it's so well deserved.
For a more in-depth report on what went on at Belgium Testing Days be on the lookout for the upcoming "The Moomins Goes Belgium" and their report from this conference, and while waiting have a peak at #MoominGoesBelgium
But if you've read my posts before ("EuroSTAR 2012 - People", "EuroSTAR 2013 - People") then you must know my view on what is the single most important thing for me when I attend a conference... the people.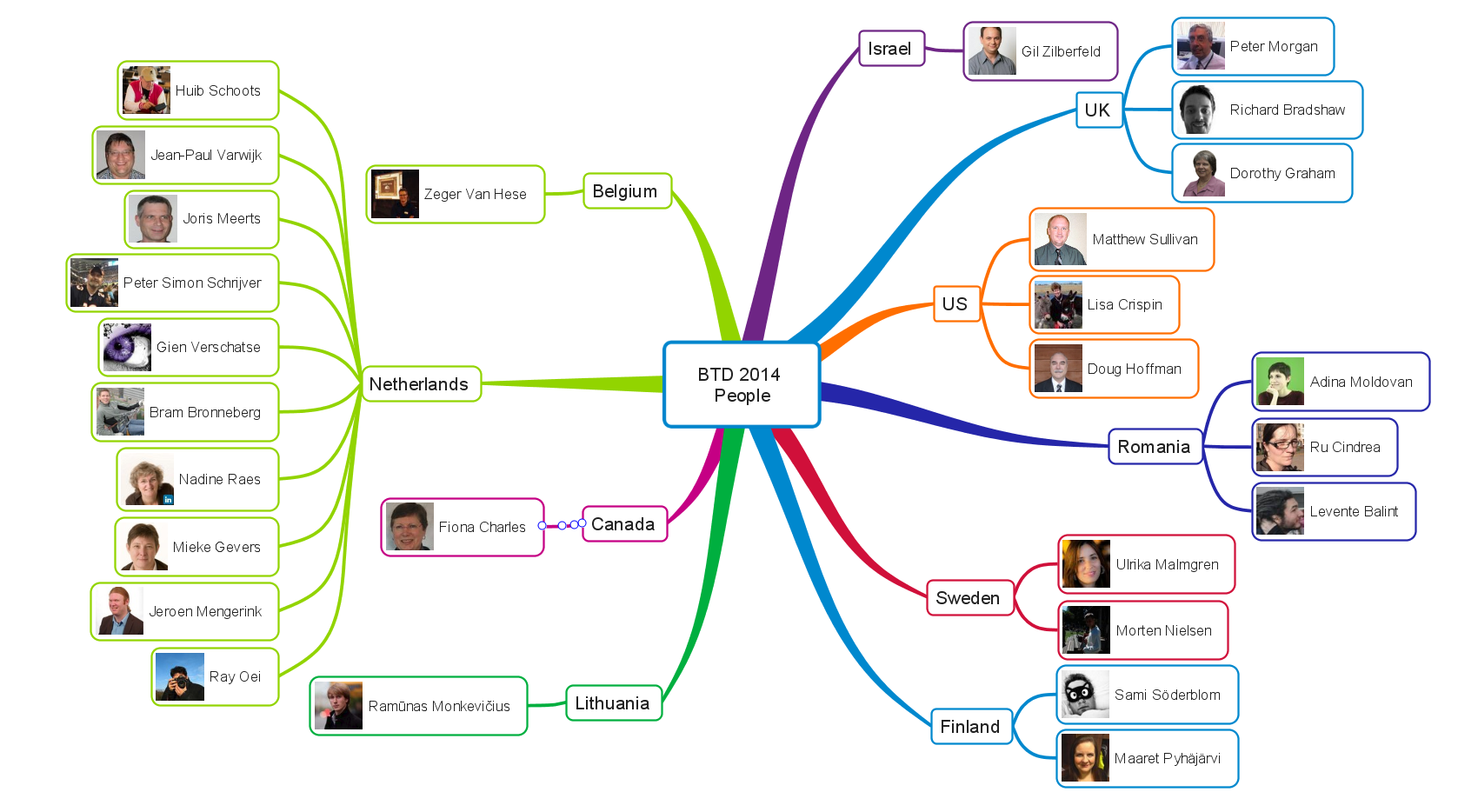 And this time was no dissapointment either, I met so many friend, old ones that I know from real life, old ones that I know only from twitter before, and of course new people I had never met before.
Meeting people at a conference is the most rewarding thing you can take home with you, new relations, discussions, and ideas.
Now don't get me wrong the sessions and workshops are of course important as well, and Belgium Testing Days did not dissapoint, but for this post I want to focus on the people I met.
New friends:

I would be amiss if I didn't mention meeting up with Ulrika Malmgren (@Ulrikama) for the first time in real life.
We connected over twitter a while back and I was so pleased to meet her.
I attended her workshop "Stop talking - start doing and get your team to care about testing!".
A workshop were she held a bug bash for us, a fun, rewarding, and very hands-on workshop were we paired up in two (I got Richard Bradshaw!), and after that an application was introduced and we were simply told to start testing and exploring it for 15 minutes... go!
After my session on tuesday Ulrika and I got to stay behind and ended up having lovely discussion around gender and our industry. I love meeting others who are interested in gender and the way we as an industry look on ourselfs, men and women in it, and how that'a reflection of the society surrounding us. Someday I'll have write a blog post or two on the subject.
Later that evening I met with Ulrika and her respective Morten (@morten_ni) who had accompanied her to Belgium Testing Days as well, and all I can say I truly loved meeting these two people and could have continued talking with them all evening long, sometimes we meet people for ever so short and we instantly feel that the persons are people we would love to spend more time with.
Ulrika and Morten was such people for me and I'm glad to have met them.
Speaking of Scandinavia I got to meet Sami Söderblom (@pr0mille) from Finland. Now I know Sami from twitter since long back but this was the first time we met in person. I loved talking with Sami late into the evening at one of the dinners, and then during the accompanying walk back to the hotel. A fellow person who loves retro games and game music :-D
I also had the chance over an evening dinner to stand at the same table as Matthew Sullivan (@msullivan_tpa) from Accusoft, a company that makes software for viewing and editing documents. Odds are if youre using an application that for instance supports PDFs, then the application is using their SDK.
During the last evening I happened to end up at a table with Adina Moldova (@adinnaplus) and Jeroen Mengerink (@AngusVB) and Doug Hoffmann (@dhoffman0000)!
Adina, Jeroen, and me were absolutely mesmerised when talking with Doug and hearing his war stories over the years (he has a few years in the industry), working with people like Cem Kaner, being a person who (supposedly by accident) sent the first network worm away on ARPANET when it had three (!) computers connected. ARPANET was as you know a military network back then and apparently Doug felt the need to disappear for a week when armed guards showed up at work...
He also told an absolutely hilarious story about coming back to a workplace after 15 years only to find the same automated test case running there (amongst 80.000 test cases!!!), a test case he had seen 15 years earlier...
During the last evening I met Gien Verschatse (@selketjah) over a hilarious game of "switching name tags" that Huib Schoots started (you had to have been there...), a very fun person to talk to and hopefully we'll bump into each other in the future.
Over the days and workshops I attended I kept running into a new acquaintance I've never met before, Gil Zilberfeld (@gil_zilberfeld) from Israel, a smart and friendly person that had a lot of good things to say in the interactive sessions.
On the last day he also had a lot of good questions in my Python workshop "Taming the terminal based applications and testing them", my workshop that I found out when landing in Copenhagen airport had been choosen as the best session/workshop at Belgium testing Days by the attending delegates!
For the first time I have met a Lithuanian tester! In real life!
Why is this so fantastic for me you ask? Well I've looked for them online, they seemed to be almost mythological to me, and oh my wife's from Lithuania as well so I speak Lithuanian :-)
I met Ramūnas Monkevičius (@ramunas_m) in my workshop, and then during the lunch break when he added me on twitter I saw his face and name together and understood his nationality.
You should have seen his schock when the Swedish workshop instructor suddenly started talking Lithuanian with him out of the blue.
The last "new friend" I met is someone I almost can't put down as a new friend since I've known her for years now via twitter, done an article with her, and almost (luckily alomost) got her recruited to a former company where I worked at the time.
I met Lisa Crispin (@lisacrispin) in real life for the first time, and I was so happy. We spent a lot of time together over the days and evenings talking.
Later that week I track chaired Lisa's LeanCoffee workshop and there was some very good discussions in that workshop that I hope will be shared somehow.
I really hope it doesn't take as long as this time until we see each other again.
Old friends:
I also met a lot of old friend. Friends I tend to run into at various conferences over the years, and I'm so glad everytime I get a chance to catch up with.
One "problem" I've noticed though is that as I get to know more and more people over the years, the "Old friends" section of any conference post like this starts to get really long, so we're going to try and keep this part short.
Sorry old friends, but everyone knows who you are anyway ;-)
UK
Belgium/Netherlands
The Netherlands
Romania
Adina Moldovan
Ru Cindrea
Levente Balint
Canada
Finland